Michael, Claire (Michael's sister), and I went to Japan the week before Christmas.

I'm not sure what I was expecting, but I loved it so much, and mostly for things that made it different from China. Reasons I loved Japan:

Everything was spotless--even the train tracks!
Trains were punctual and well-organized.
People were so polite and helpful. I learned to really like bowing.
There was no pushing or spitting.
Not many people smoked.
Most people had really classy style. (And somehow this made it hard for me to imagine so many people liking anime. Sorry, anime people!)
We could say the names of places without too much trouble.
There was cheese!
I was able to find eclairs and ate at least one per day.
There were Christmas decorations everywhere that made missing Christmas not so bad.
The only thing I would change about our trip is the clothes I packed--a week before we left, I'd checked the weather and thought it was going to be fine. Wrong. It was freezing. I looked like this within an hour of arriving (yes, Sica, I still have that blanket, and will, until I find a replacement):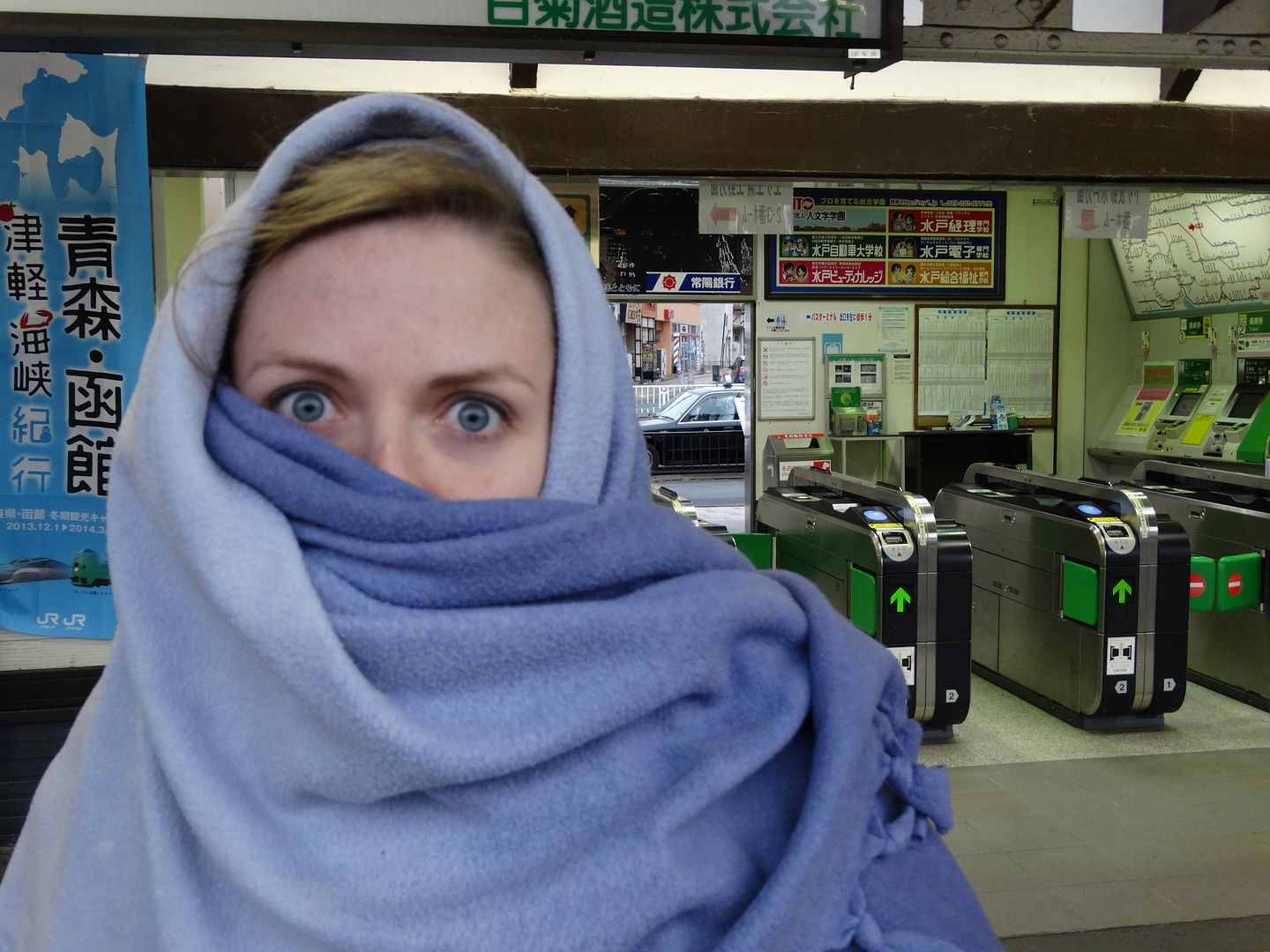 "Girl in Japan"
I had to use every second of wifi before we left the airport to plan stuff.
This is what our itinerary ended up looking like and which I would definitely recommend to others who also only have about a week and want to see a lot:
Day 1: Arrive in Tokyo, sleep there
Day 2: See as much as you can see in Tokyo, get on train to Matsumoto before 1 PM, see Matsumoto Castle, sleep in Matsumoto
Day 3: Take the train to Kyoto, see as much as you can before closing hours (we saw Nijo Castle), sleep in Kyoto
Day 4: See Kyoto sites--Golden Pavilion, Sagano Scenic Railway, Iwatayama Monkey Park, Silver Pavilion, Gion, sleep in Kyoto
Day 5: Find a locker for your stuff so you can go to Osaka later, take the train to Nara for Todai-ji Temple, stop at Fushima Inari Shrine on the way back, go to Osaka to sleep
Day 6: Take the train to Hiroshima and see the sites, then ferry to Miyajima, and take the train back to Osaka to sleep
Day 7: Take off (we left from the Osaka airport with the discount airlines, Peach)
The night before we left, we discovered that the airport we were landing at was actually about two hours away from Tokyo by train. Ooops. That's what happens when you book the cheapest flight you can find and plan last-minute. We ended up taking a bus and a few trains (to get our Japan rail passes activated) before finally arriving at
this Airbnb rental
. We loved that we could just let ourselves in.
The Japan Rail Pass (JRP) saved us a lot of time, money, and trouble, though we had to go a little out of our way to get it activated, and we had to make sure to pick it up in Shanghai since it's not available for purchase in Japan. Also, notice the clean tracks behind the pass.
This is Japan's cool-shaped, high-speed rail train.
After dropping off our stuff, we headed to Roppongi Towers, where we wandered around in the freezing rain until we found a cozy Italian place called
Obika Mozarella Bar
and had some of the best pizza we've ever had.
The next morning, we were so exhausted (two post-finals students and one person who spent hours preparing everything) that we didn't get going until late in the morning, and finding a locker for our luggage took so long that we didn't have time to see much. Luckily, the one thing we saw was serenely beautiful--
the Shinjuku Gyoen Garden
.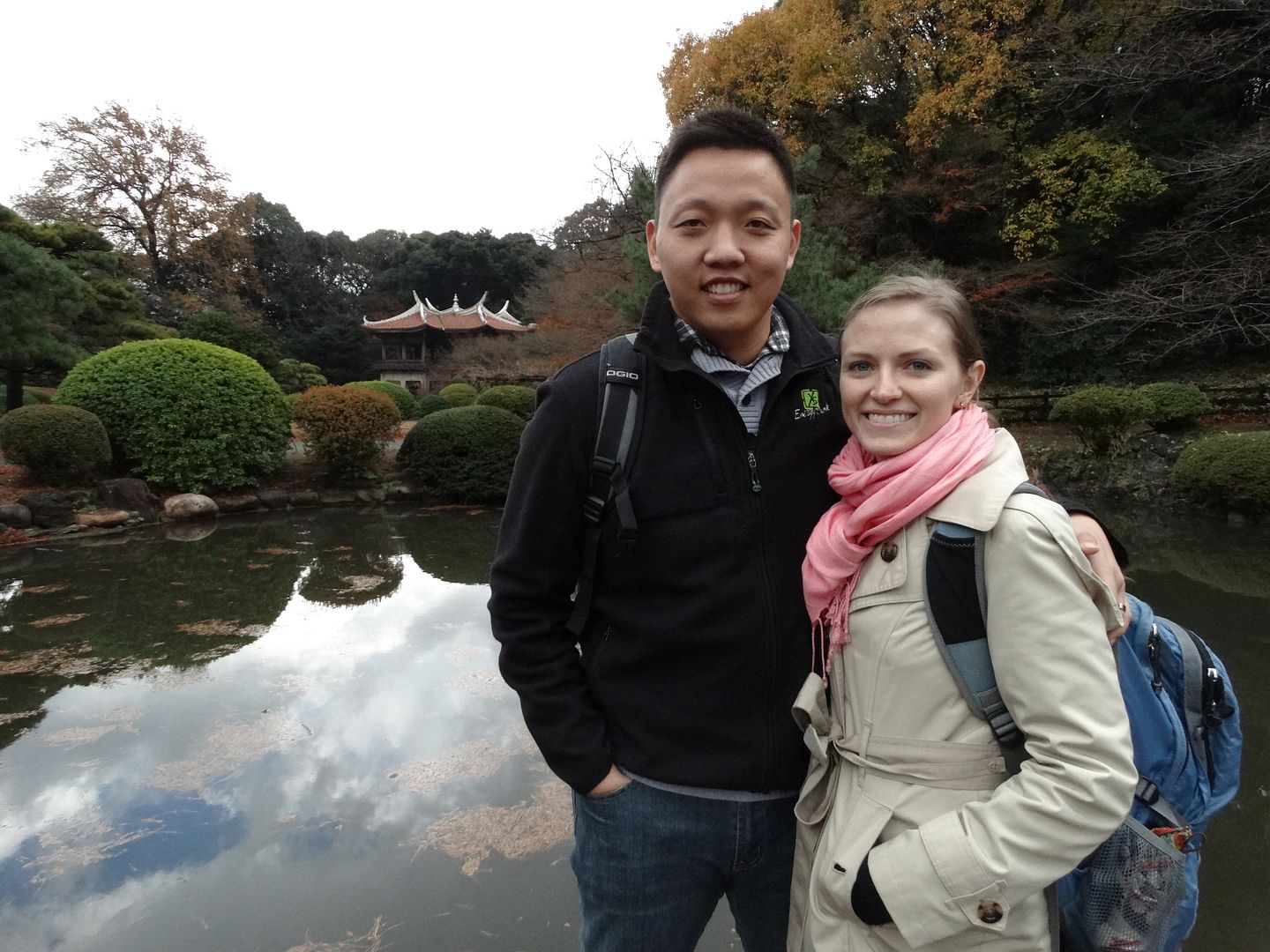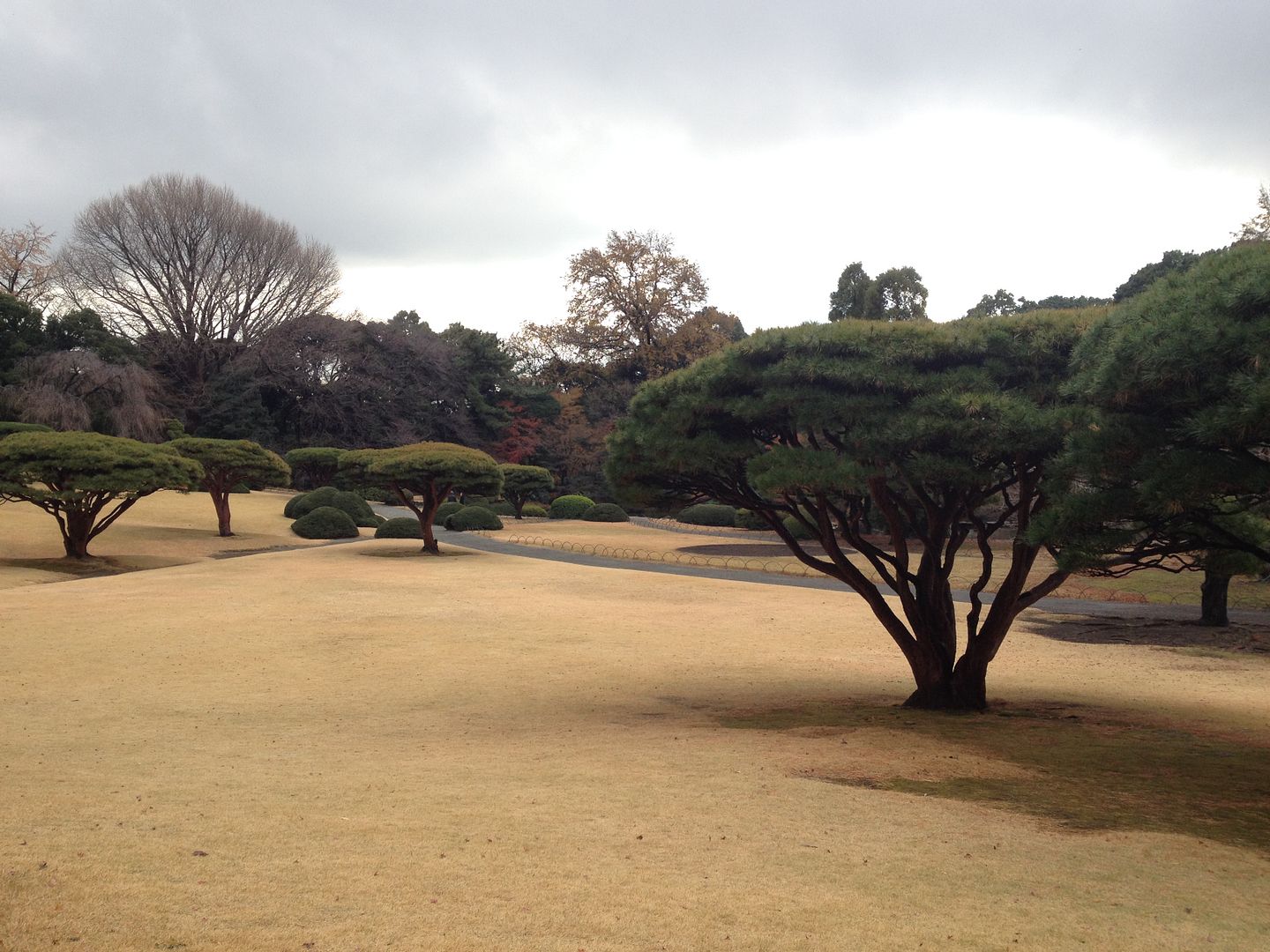 This view reminded me of Dr. Seuss.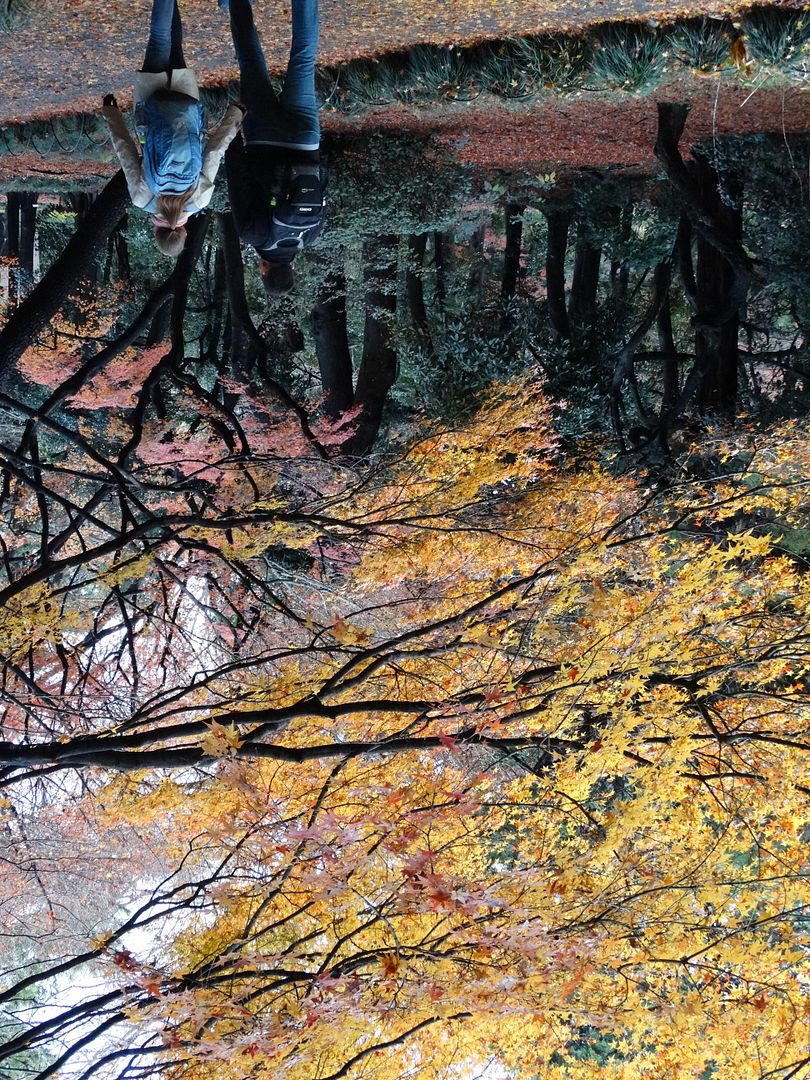 We didn't entirely miss the autumn leaves.
After that, we took a train to Matsumoto. The Japanese countryside was beautiful, and I was surprised to see that the small towns and the mountains reminded me of Switzerland. No wonder they call those mountains the Japanese Alps. When it started snowing, I started getting scared that we were going to freeze wherever we ended up sleeping.
Matsumoto Castle was minutes away from the train station by bus. I loved seeing the really old building and imagining the people who used to live there.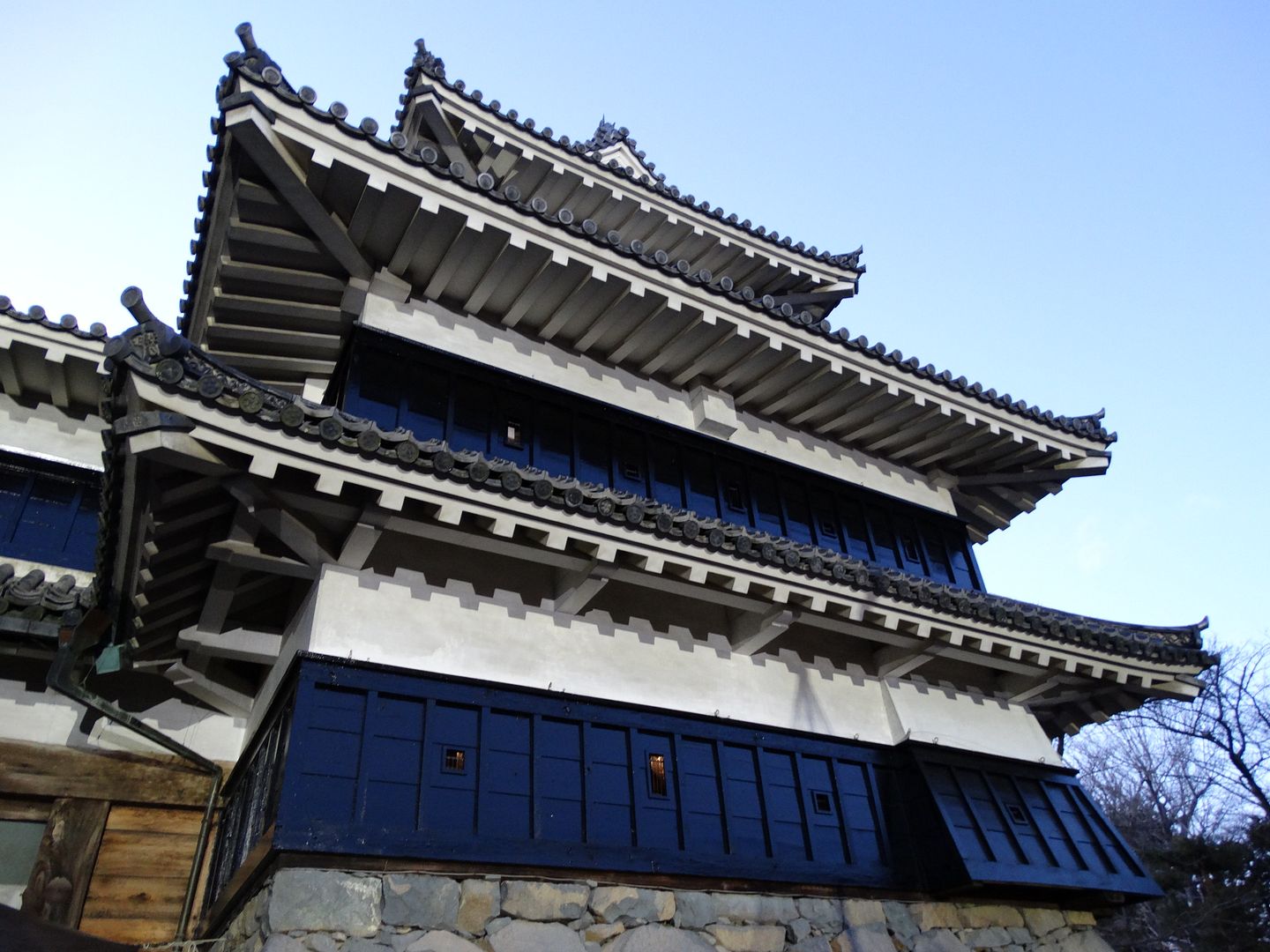 This is the view from the top of Matsumoto Castle.
A lovely veranda in the castle.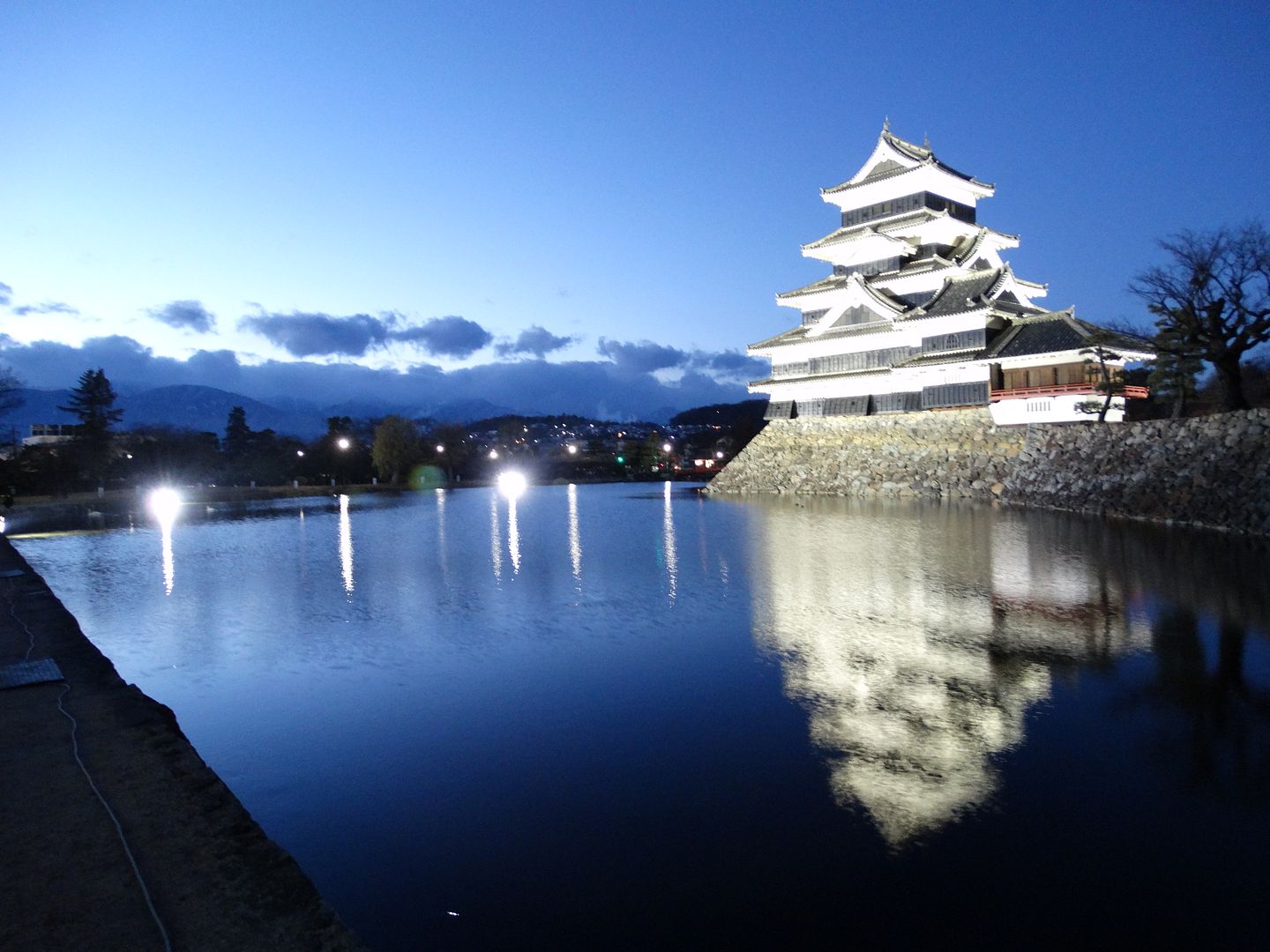 Claire captured this great shot of Matsumoto Castle after sunset.
I wanted to find a ryokan to stay in deep in the mountains, but we were never able to, so while I bought some gloves and explored a wonderful story called
Loft
, Michael booked a place in Matsumoto. He was so nice to pick a place that eased my disappointment a little--the room was Japanese style, and able to fit six people, so we each got two beds. :)
Mastumoto in December. Charming little town.
Claire and Michael re-living childhood memories of playing video games together.
A cute bookstore/cafe in Matsumoto.
The first place we could find that was still open was owned by a man who looks like Buzz Lightyear and collects cartoon toys. He was missing a minion, so we may send him one if we ever find the card he gave us.
We stopped in Nakatsugawa the next morning and enjoyed a Christmas market with a sign that said, "
Mary
Christmas." (At least it wasn't "marry," right? Maybe they were referring to Mother Mary.)
They even had German Christmas stollen!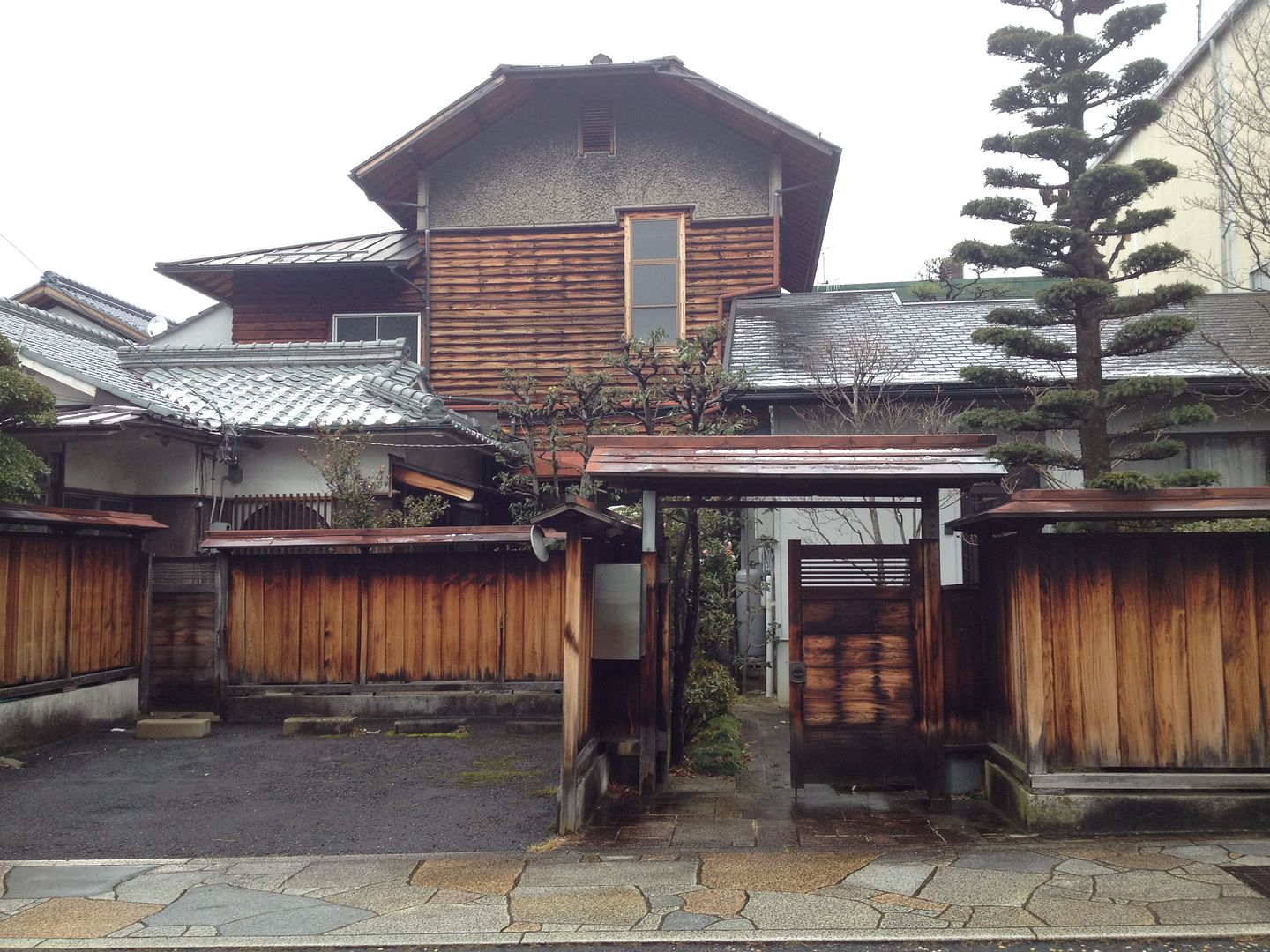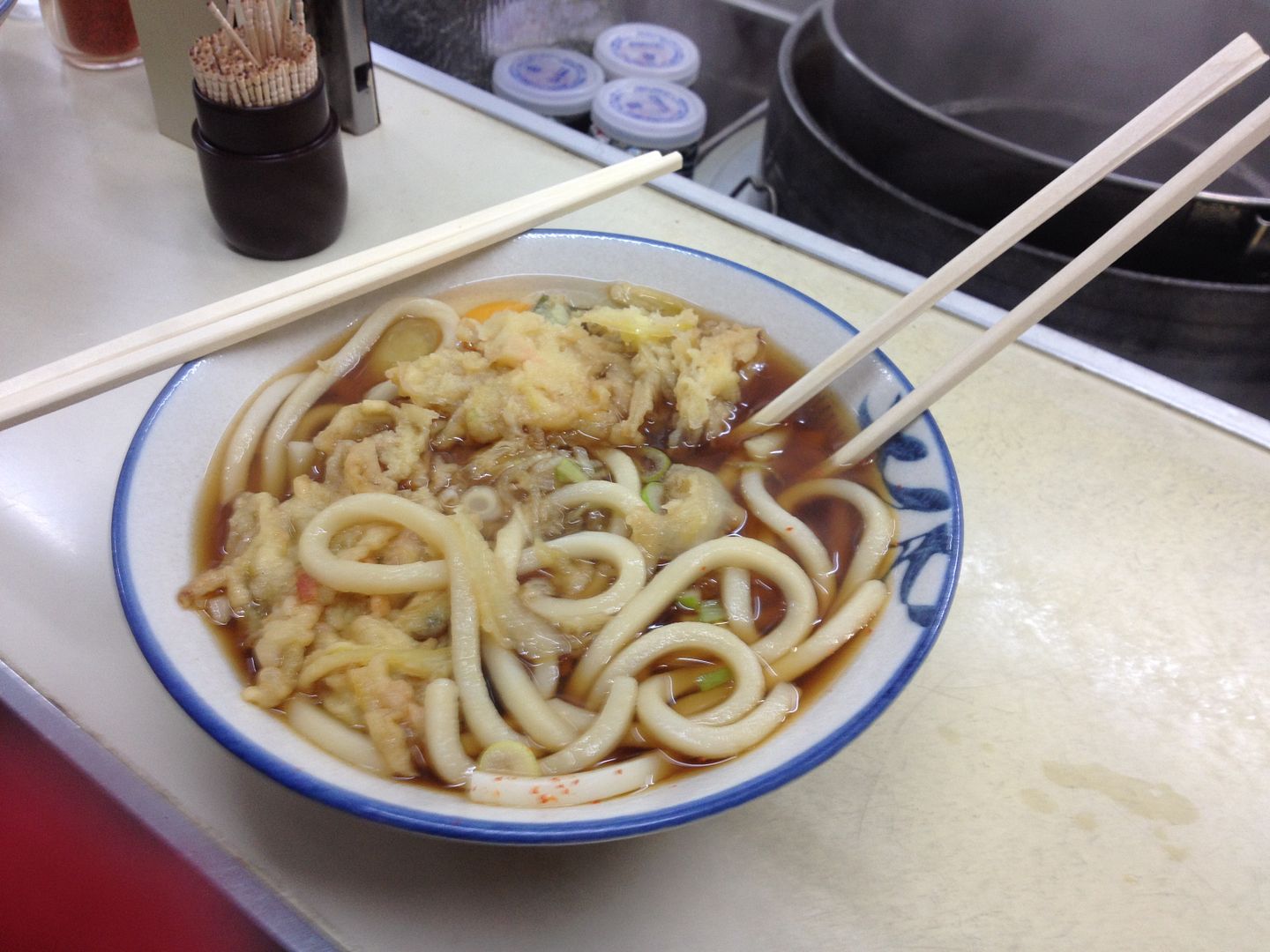 Udon noodles with tempura and green onions at the Nakatsugawa train station. This food made Michael and Claire think of their grandma--she grew up in Taiwan when it was occupied by Japan. (Unlike the occupation in China, the Taiwanese people liked a lot of what Japan brought to them.) When Michael and Claire lived with their grandma, she mixed Japanese into her Taiwanese and Mandarin and made Japanese food. To this day, she still does Japanese karaoke once a week (and she's in her 90s!).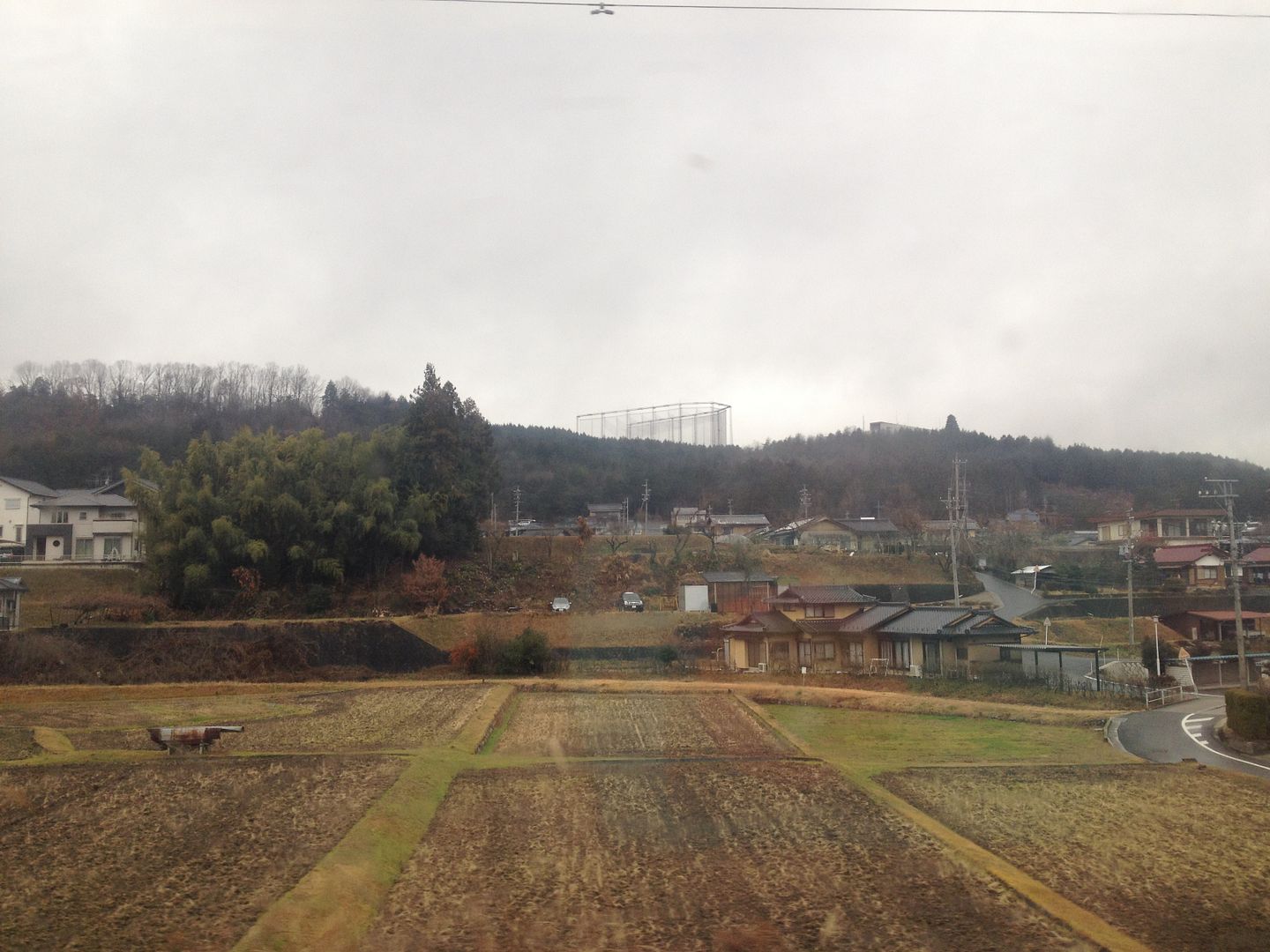 In Kyoto, we found
our really great Airbnb
(see below), walked to Nijo Castle, and then headed to
Owariya
, a 540-something-year-old family restaurant, owned by the family of our Airbnb owner's wife.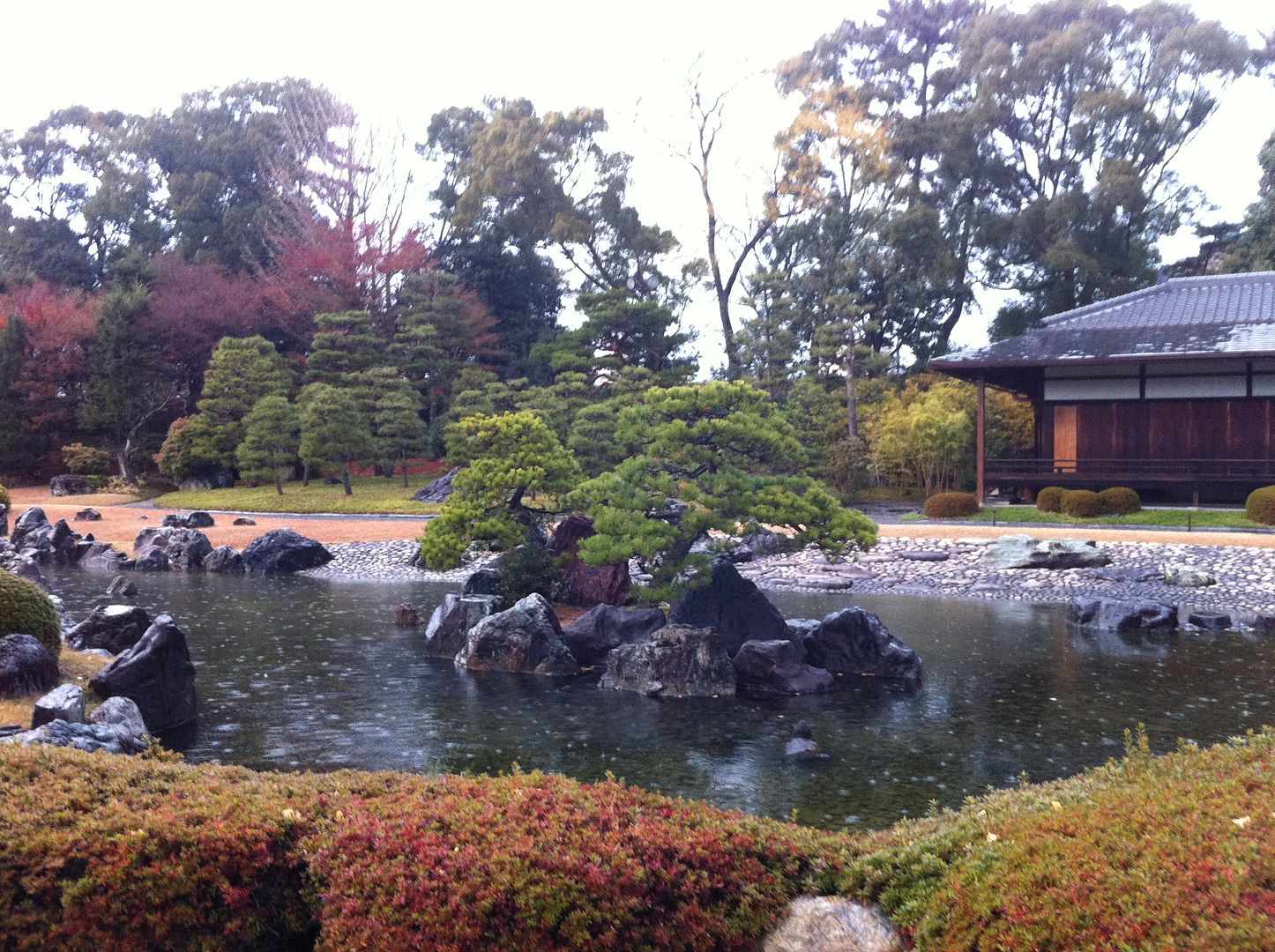 After that cold, cold evening in Matsumoto, I wore the same thing for the rest of our trip: two pairs of socks, long johns, two pairs of pants (luckily one pair was too big and fit over the other), and six to seven layers on top, with a scarf, my hood, and my gloves. Honestly, layering still didn't help much. I froze and froze and froze.
My sushi was made of noodles instead of rice.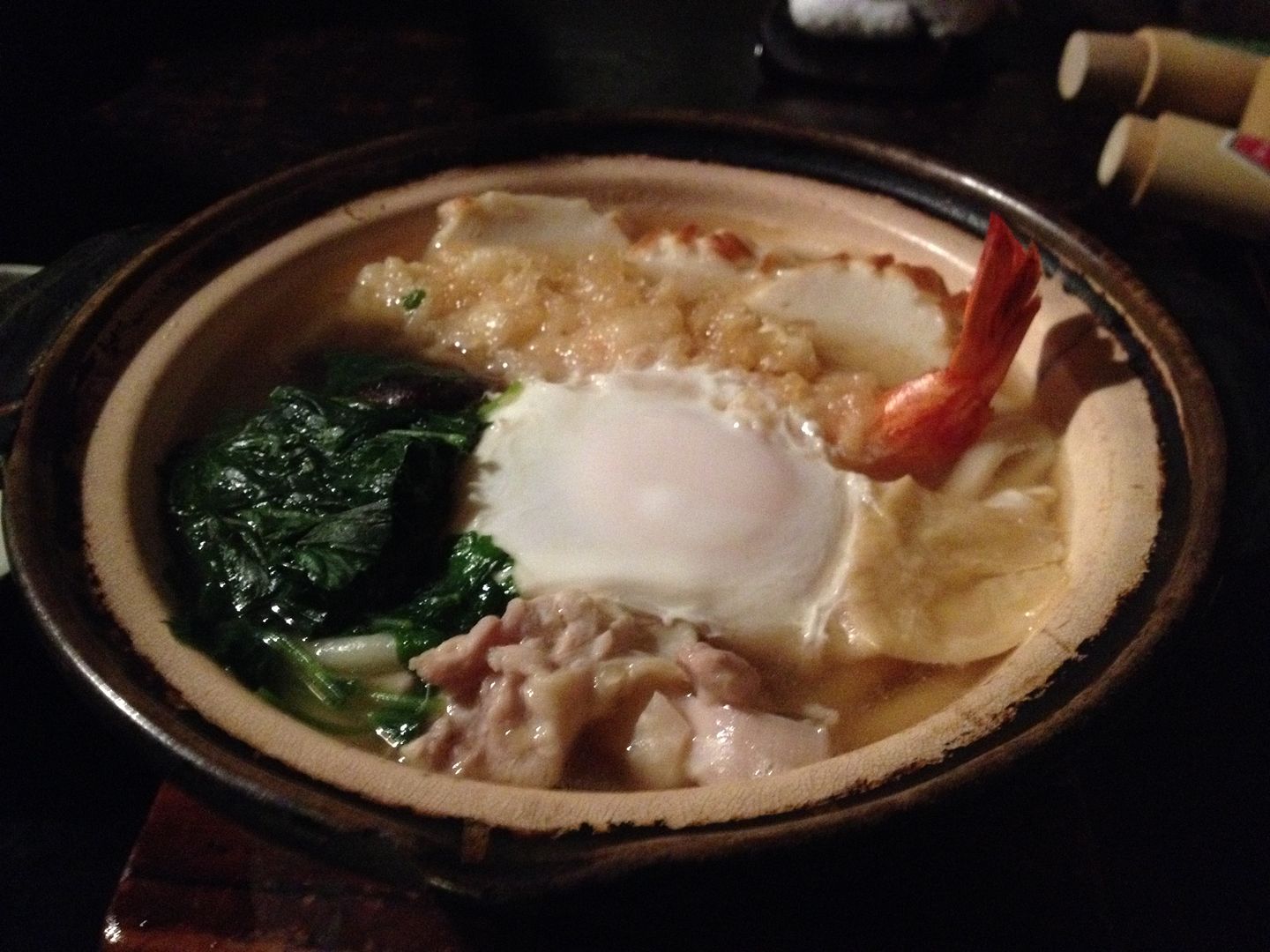 Michael's food.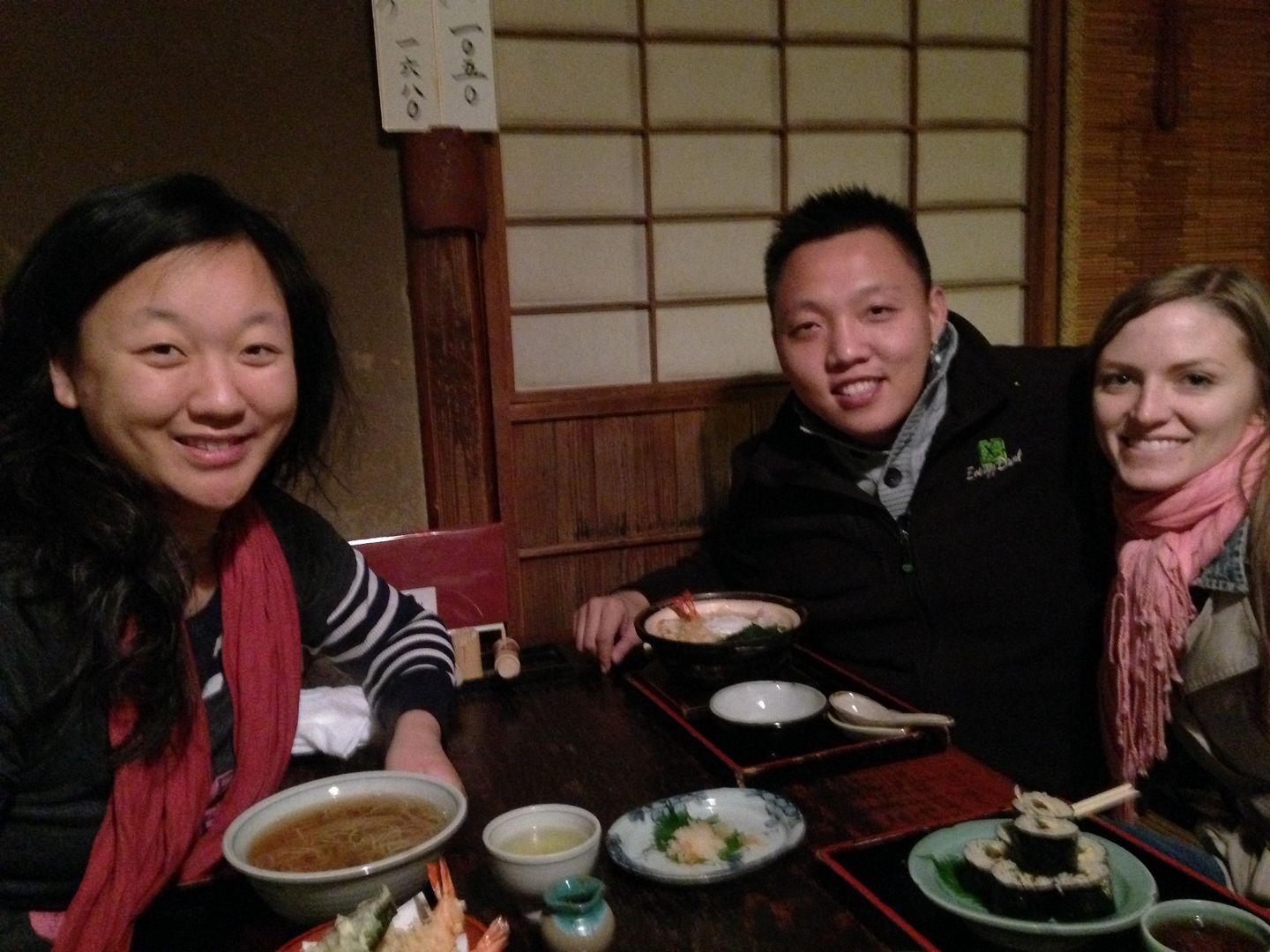 The next day was a whirlwind. We saw the Golden Pavilion, a nice view of a canyon on a scenic train, and monkeys. After feeling sleepy on a bus, we ran but still missed the opening hours of the Silver Pavilion. Luckily there was a lovely local shrine off to the side.
Michael was so excited to find some wasabi peas and roasted nuts to munch on.
The city of Kyoto from Iwatayama Monkey Park.
An Iwatayama monkey. Michael got some pretty awesome shots.
It would seem that I wasn't the only one who was cold.
We bought pieces of yam to feed to the monkeys. Usually it was the big fat ones who pushed the little ones out of the way and got the food.
We saw several women in kimonos every day. Lovely.
This shrine eased the pain of missing the Silver Pavilion. Note: during this trip, it was really interesting to me to see how Michael and Claire could get around because of the shared Chinese and Japanese characters. I want to read more about that.
To end the evening, we headed to Gion, an area of Kyoto famous for geishas, and ate issen-yosyoku, or
okonomiyaki
(a Japanese omelet) at a place that was really interesting--not just because of the old-fashioned erotic stuff on the walls, or the mannequin we named Nancy that sat at our table, but also because this was the menu: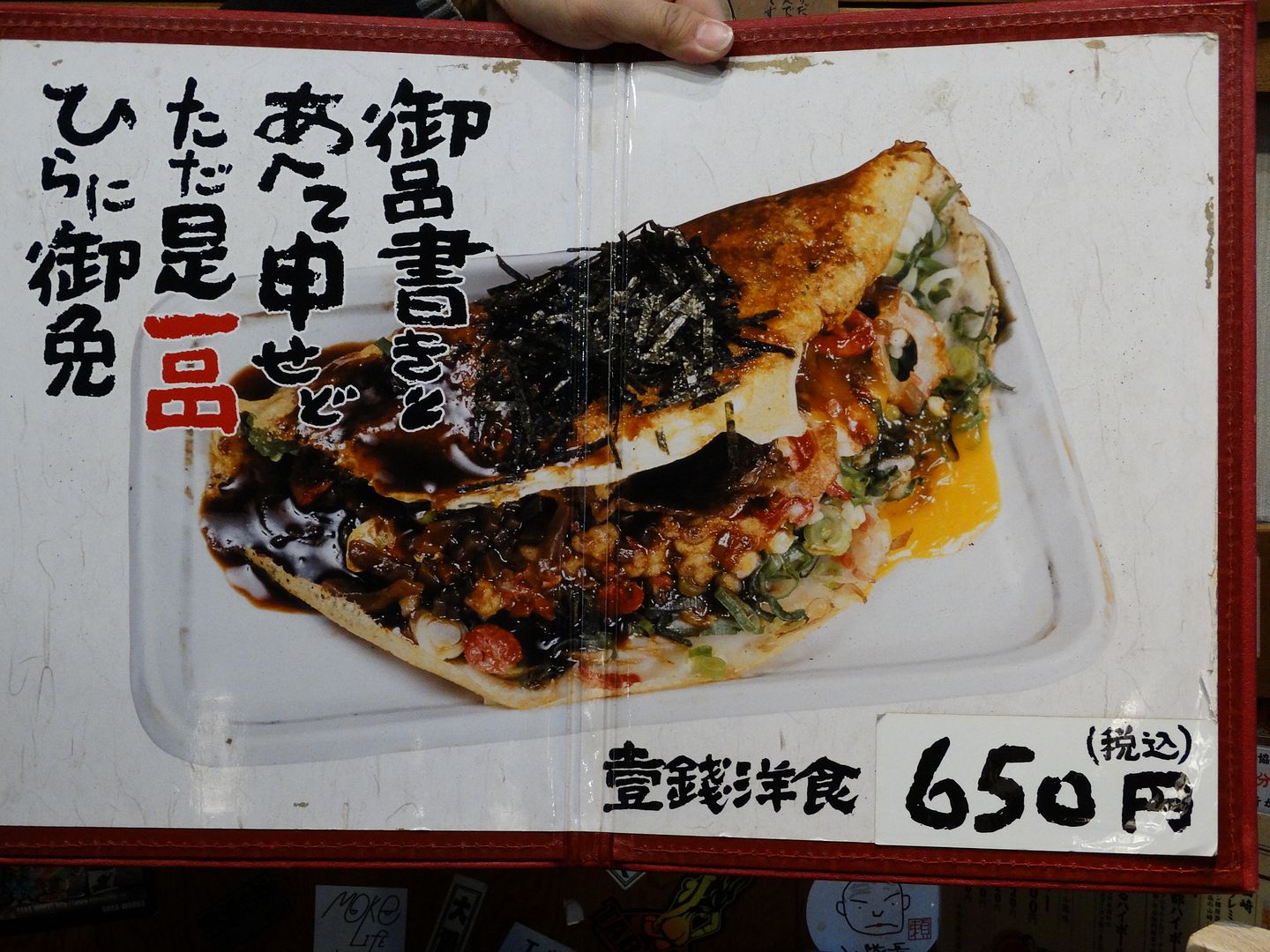 One item. And it's no wonder--it was delicious. I especially loved the sauce that tasted like A-1.
Our tablemate. Claire and I agreed to name her Nancy.
We did a bit of shopping after that--boots, ice cream, etc., and were happily surprised to find a Japanese version of a dollar store!
The next day, we headed south. The first happy surprise was finding Belgian waffles at the train station.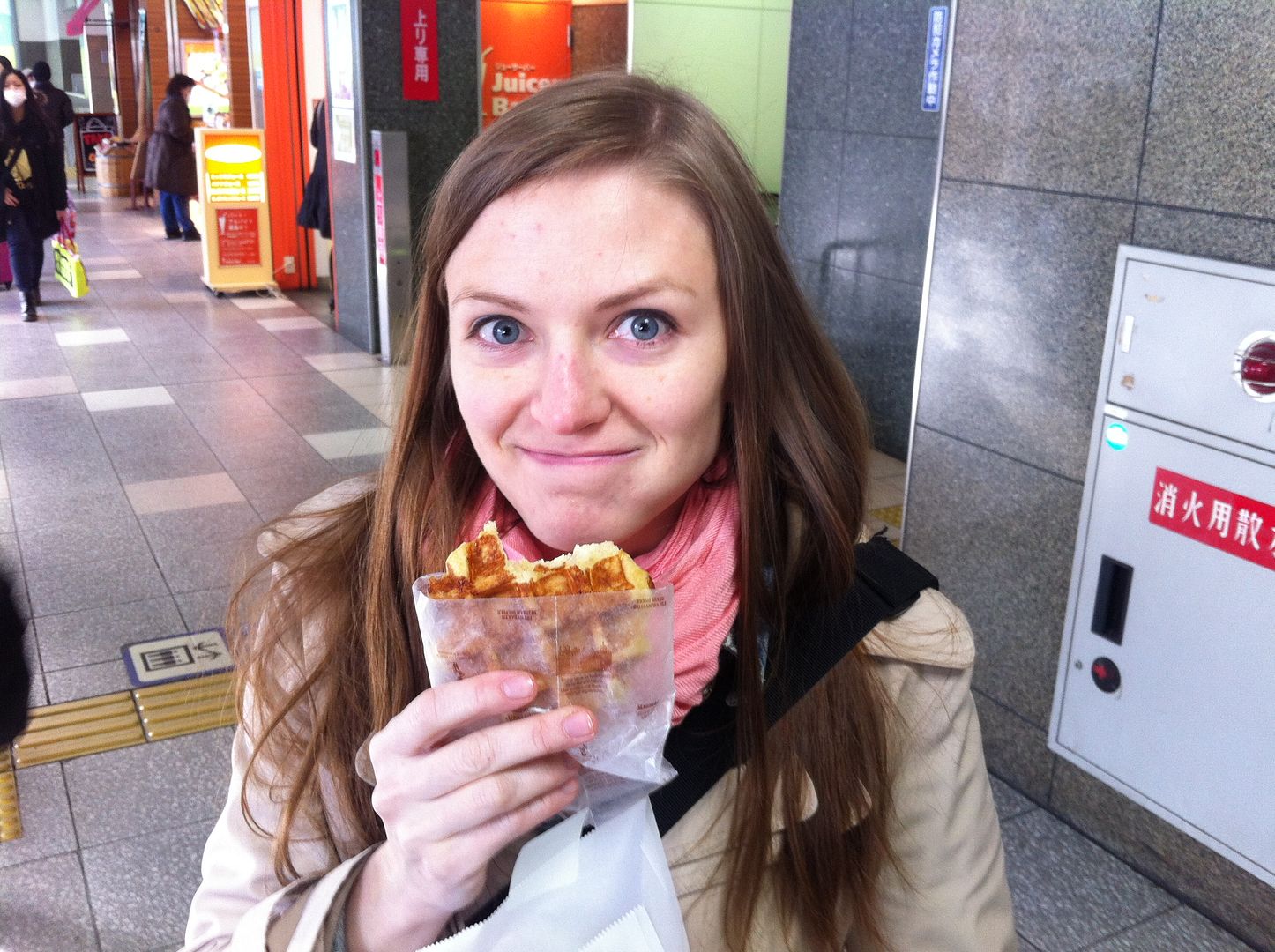 In case you wanted to see what I look like when eating a cold Japanese Belgian waffle without makeup on.
We went to Nara, to the Todai-ji Temple. There were deer on the way, and they were half the entertainment. Oh, deer.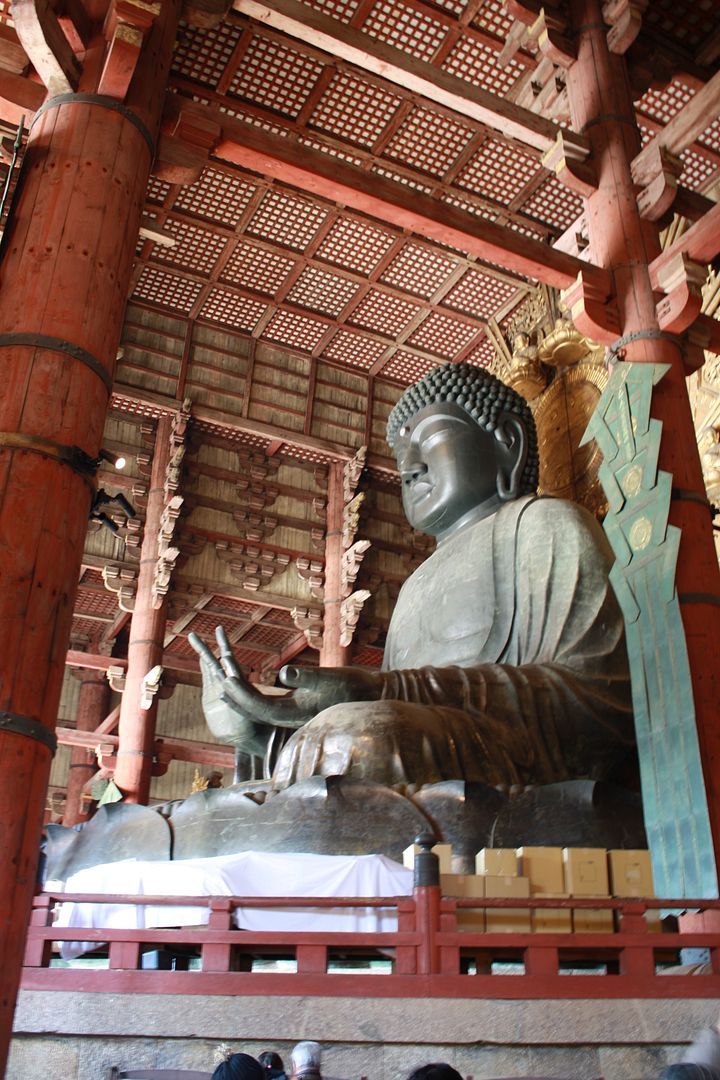 The Fushimi Inari Shrine was on the way back into Kyoto. I lost my water bottle getting off the train, but it was worth the stop with the beautiful colors and the fresh air.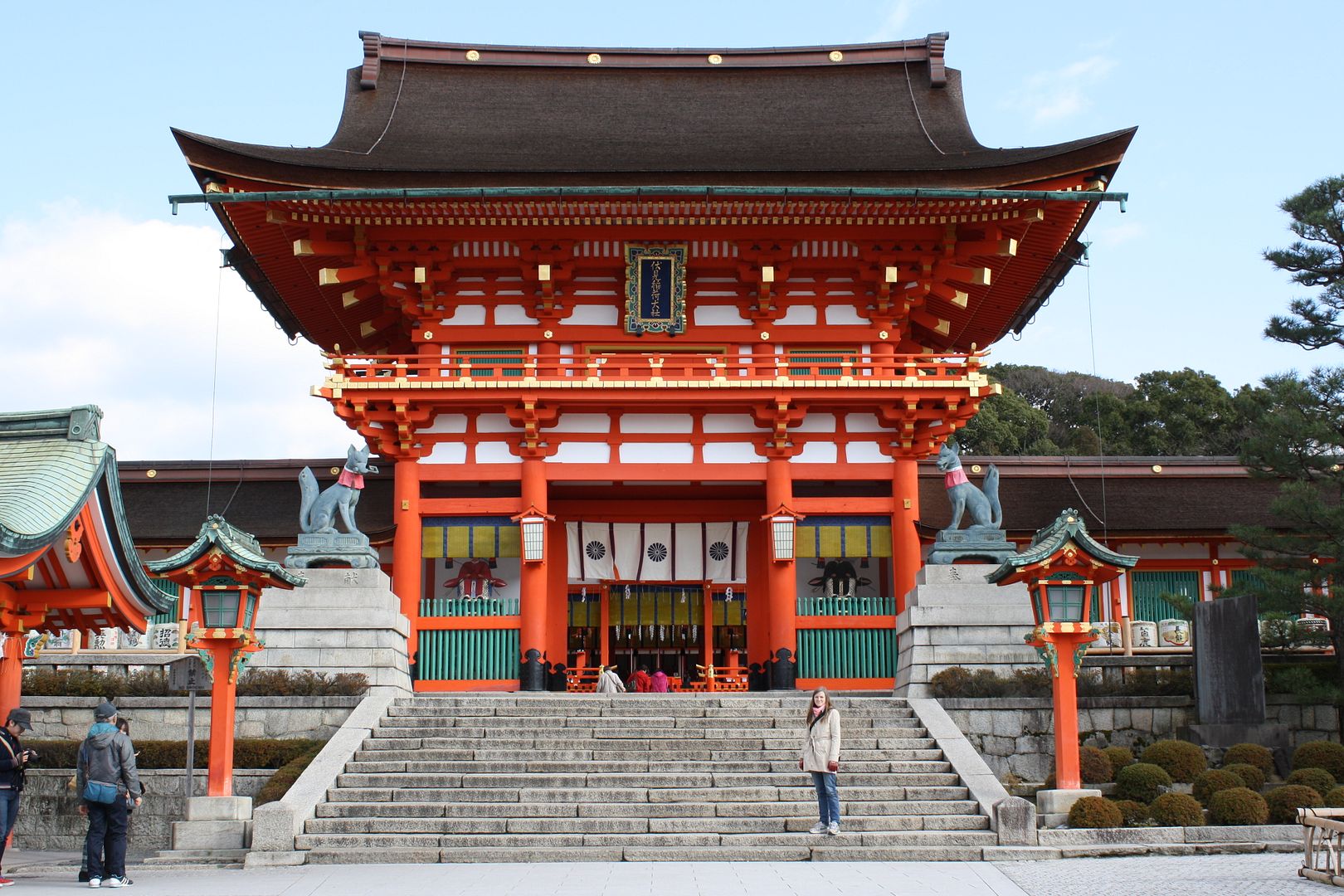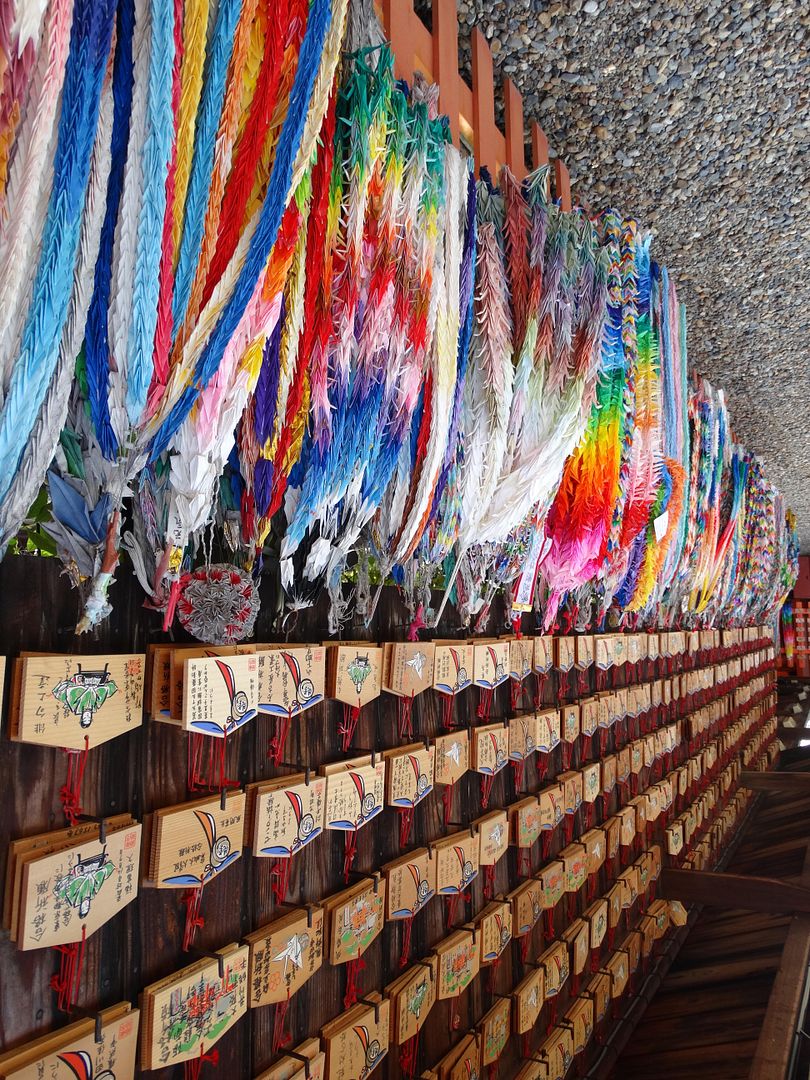 There were thousands of these beautiful origami cranes.
Claire captured this procession of priests/monks/holy men, which made me again realize I know so little about the religious beliefs and practices here. And what exactly is the purpose of these temples? I guess I must be a bit like random people visiting Temple Square and snapping photos merely because it's famous, even though a lot of them don't really know why the temple exists. At least there are free tours with good question-answering tour guides. Not so here. I think I'll go do some internet reading. I hope I can find some good sources.
The orange made the walk up the mountain magical.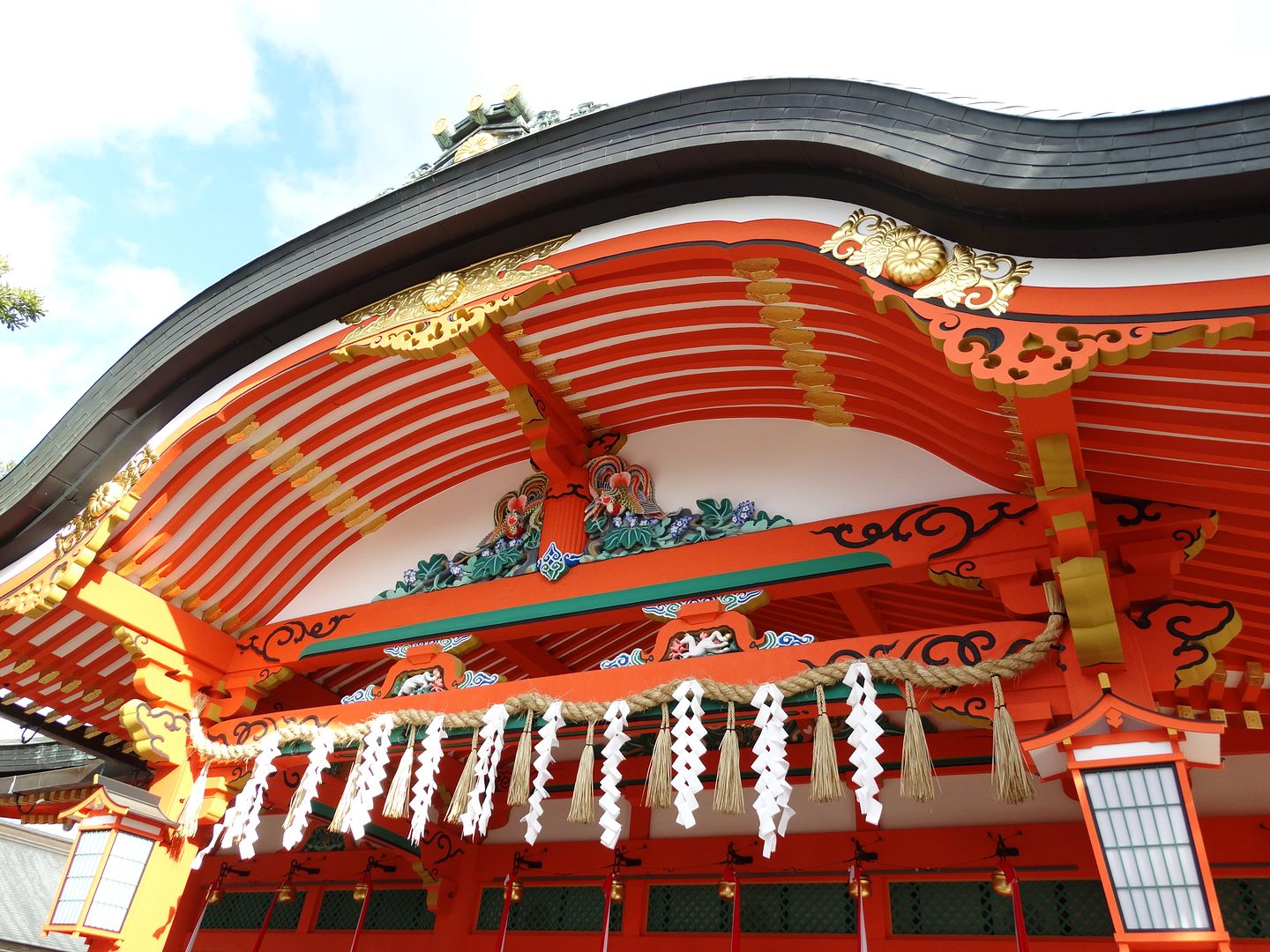 After finding our Airbnb in Osaka that evening, we met up with one of Michael's HULT business school friends, Shoko, and her husband, for more Japanese omelets. Again, the sauce was to die for. Also, there was a bakery in Osaka (Shizuya?) that we passed several times, and every time, we loaded up on things with cheese and chocolate and other kinds of deliciousness.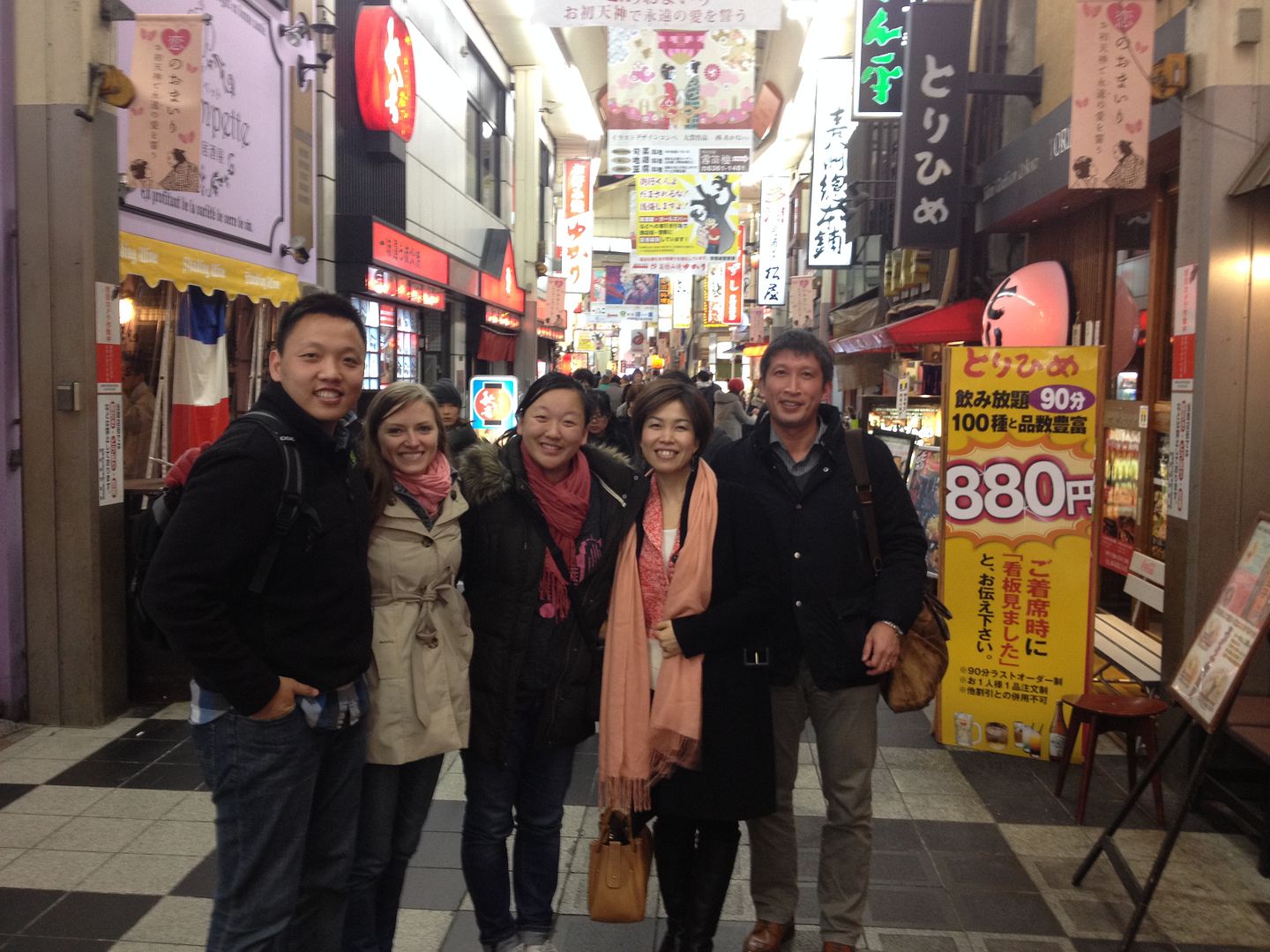 Michael, Claire, and I with Shoko and her husband.
Hiroshima made me cry. I couldn't stop thinking about the awful things that we humans do to each other. I kept looking around and trying to imagine (and being unable to) the polite Japanese men I saw being guilty of the awful war crime rapes that many Chinese women suffered. I tried to imagine the entire U.S. being so against a country that we wanted to obliterate one of their cities. Then I started wondering if the war would have ended without the A-bomb. War is a horrible, horrible thing.
Michael wanted me to smile in a picture with the A-bomb Dome. I couldn't do it--what is there to smile about here? Everyone in the building immediately died when the bomb dropped.
I remember reading
Sadako and the Thousand Paper Cranes
when I was in elementary school and immediately recognized this as a monument for the girl who died of cancer years after the bomb was dropped, Sadako Sasaki. It is also to remember all children who were affected by the bomb.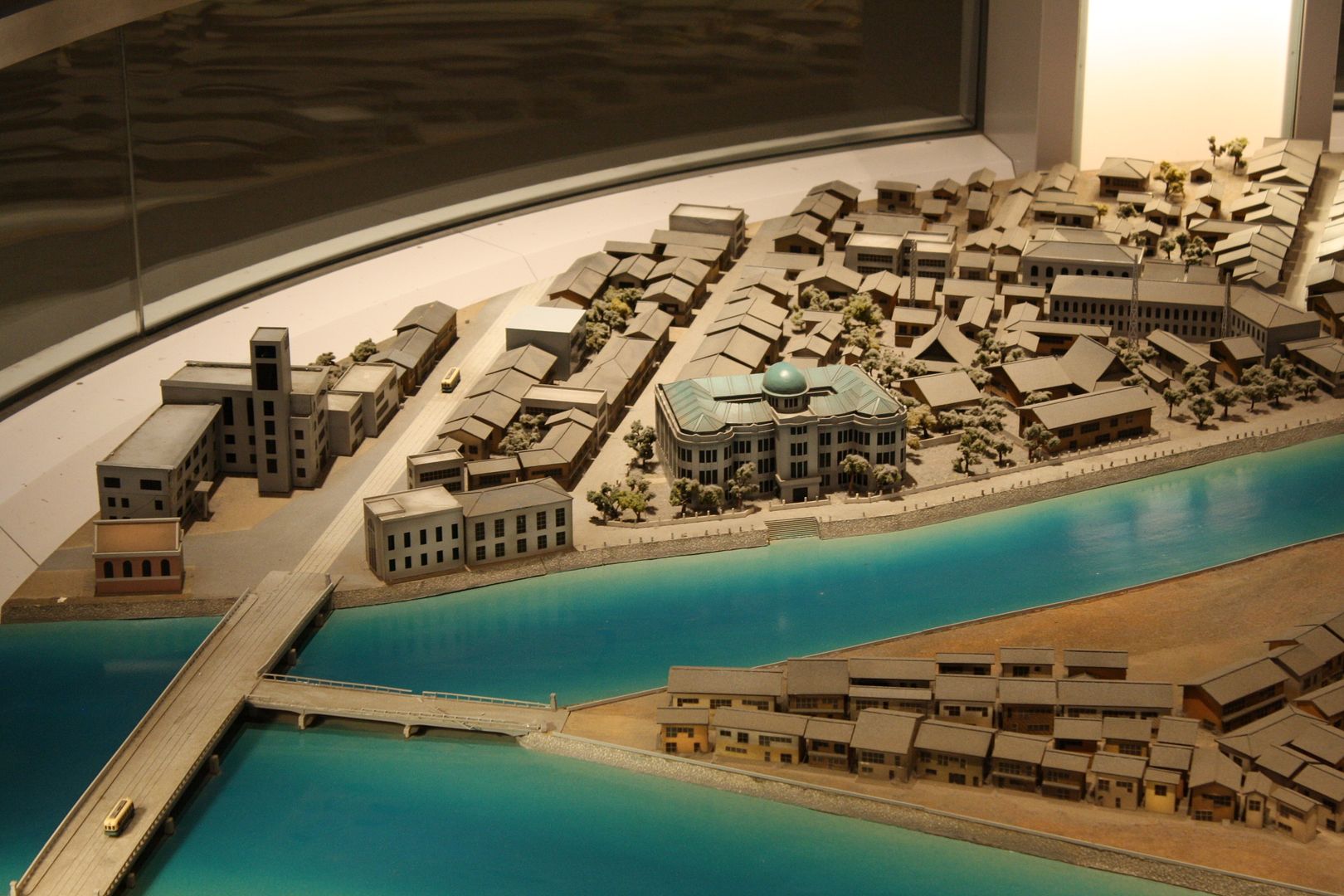 Hiroshima before the bomb.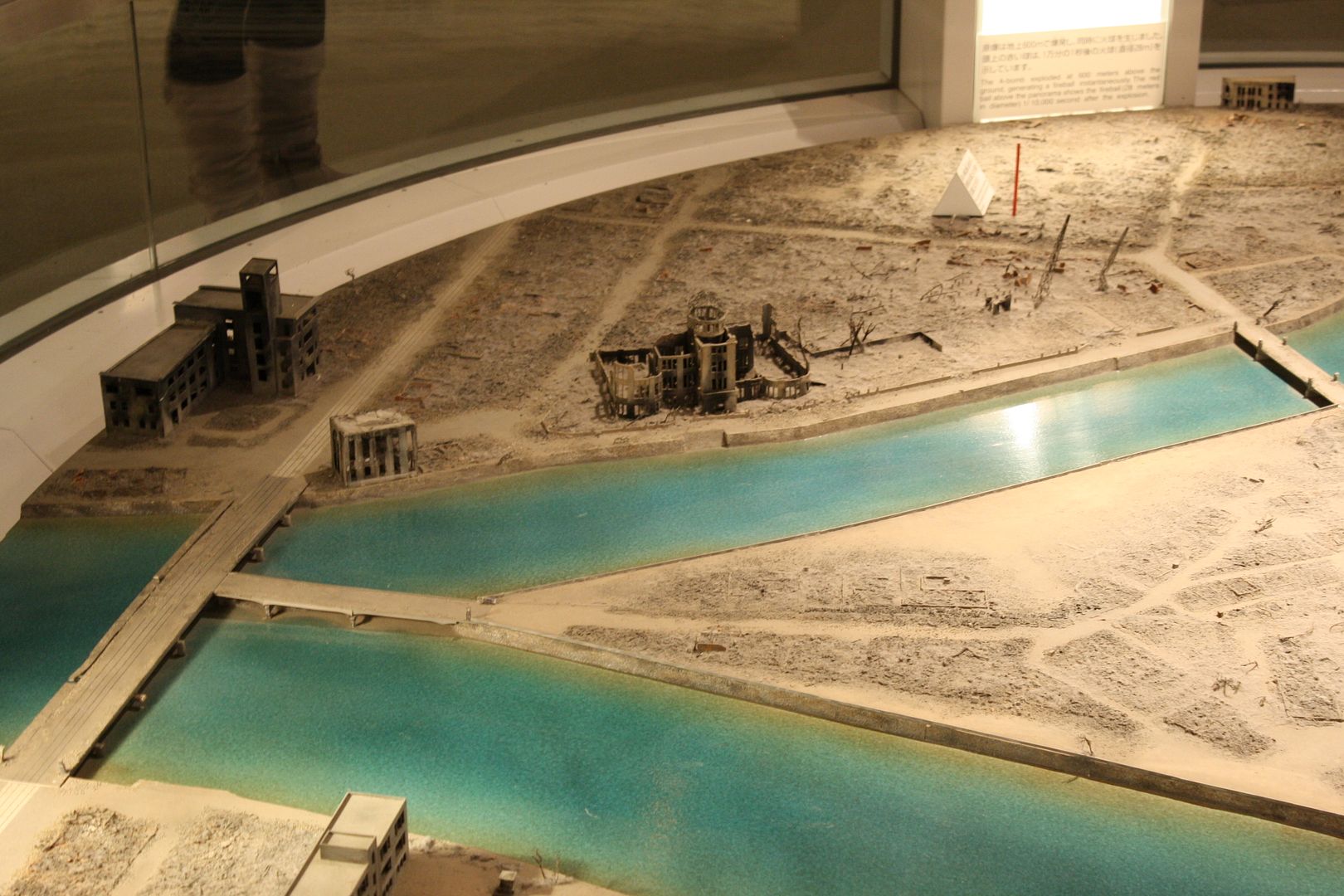 Hiroshima right after the A-bomb dropped. Did you know that each Hiroshima mayor since has written to anyone suspected of having nuclear weapons and asked them to consider the future of humankind and get rid of their weapons?
A trike that barely survived the bomb. Everything got so hot that quartz shot exploded out of anything made out of granite, and there were shadows of items burned onto walls behind them.
It was a breath of fresh air to visit the beauty of Miyajima, where we saw more beautiful orange colors, nature, and deer.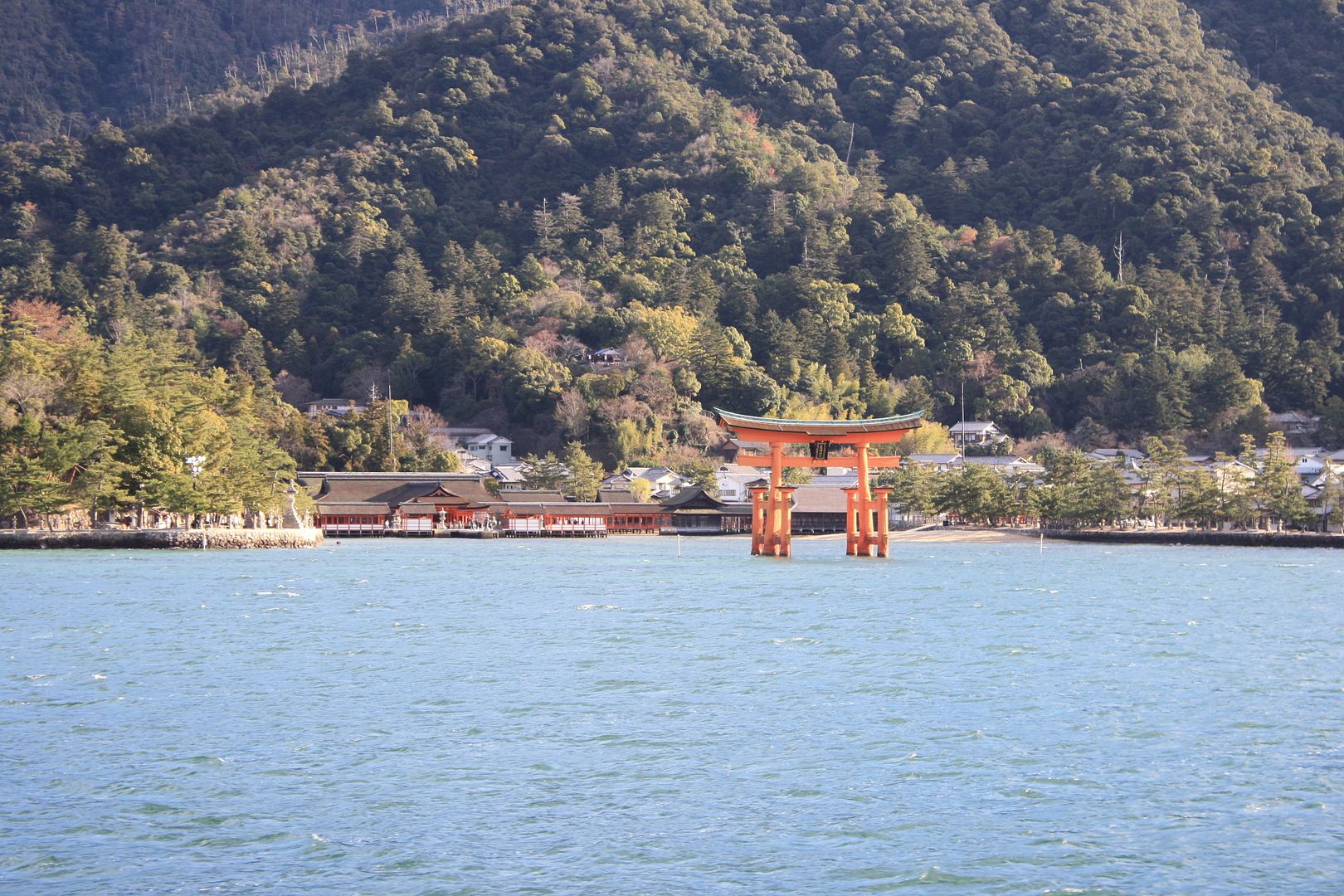 Don't be fooled by the lovely, sunny day. It was teeth-chattering cold.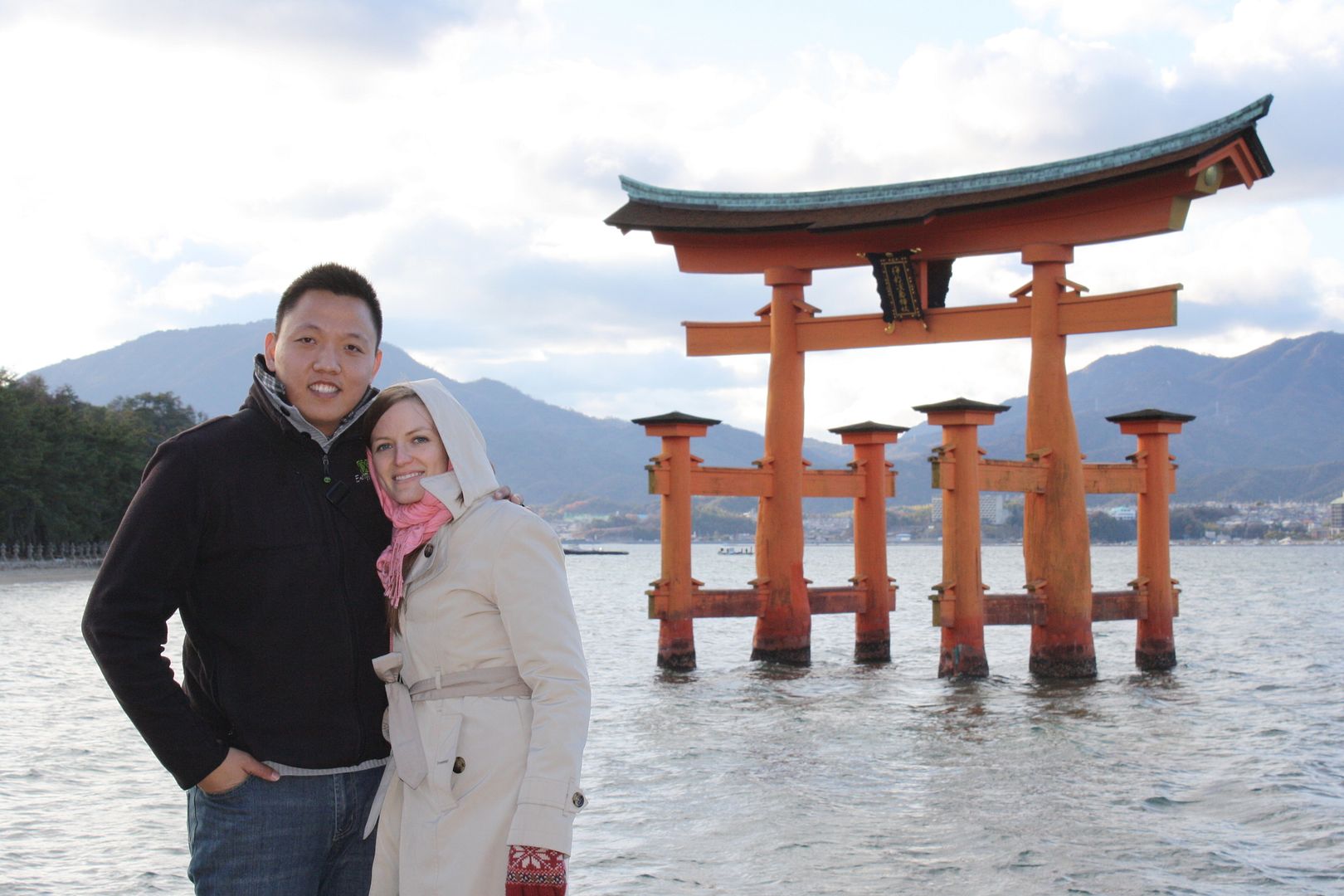 Michael and I at the Fukushima Inari Shrine.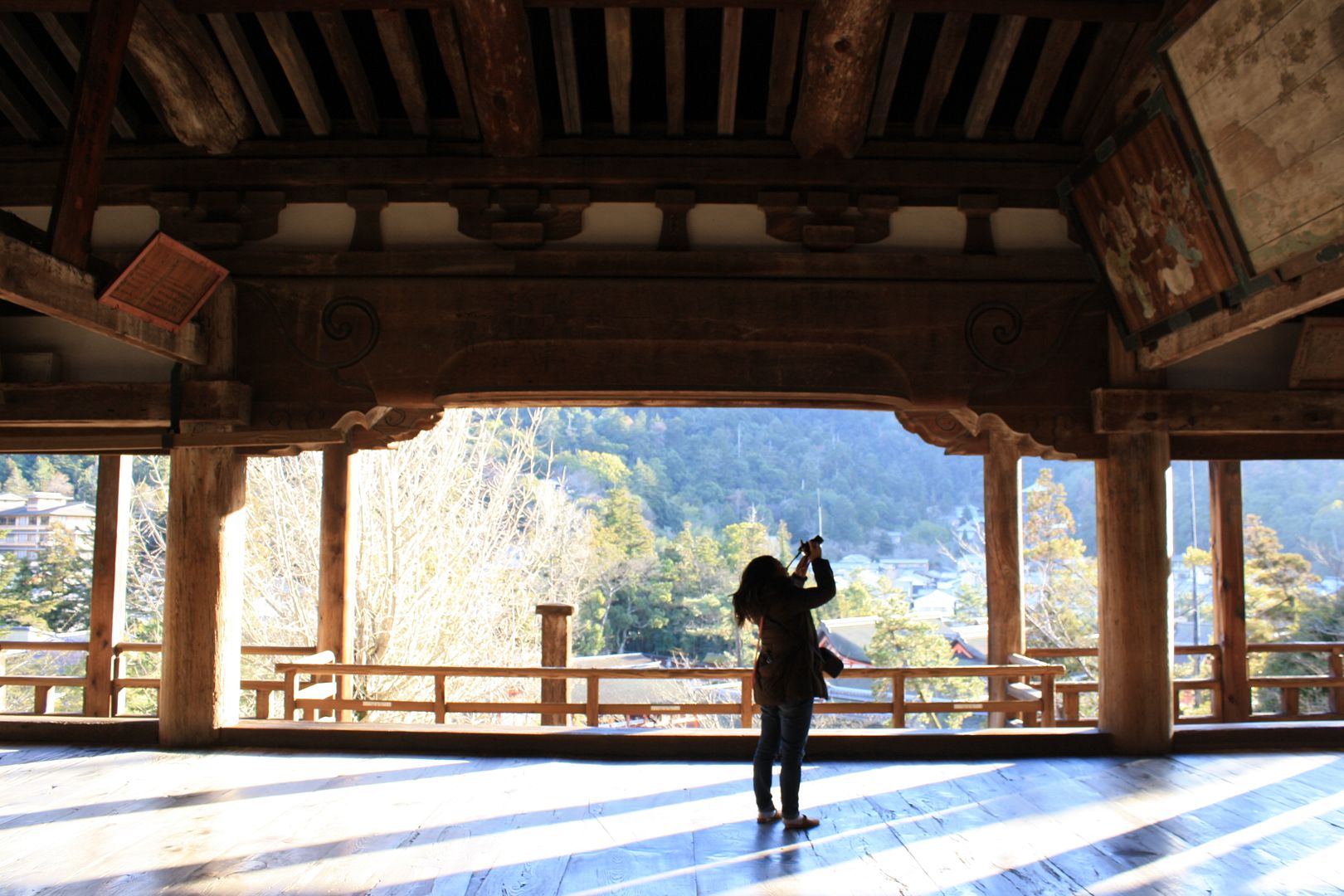 This amazing old building was at the top of a hill. We were required to wear slippers on the old wooden floors. Michael and Claire had quite the photo heyday.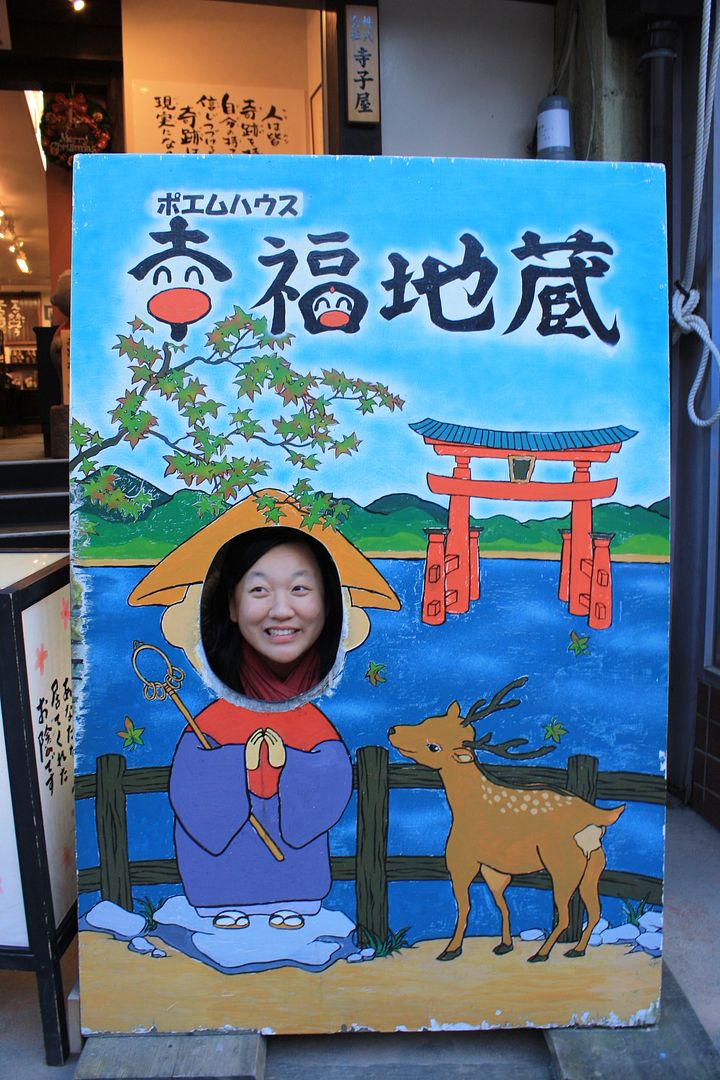 This deer was ready for his close-up.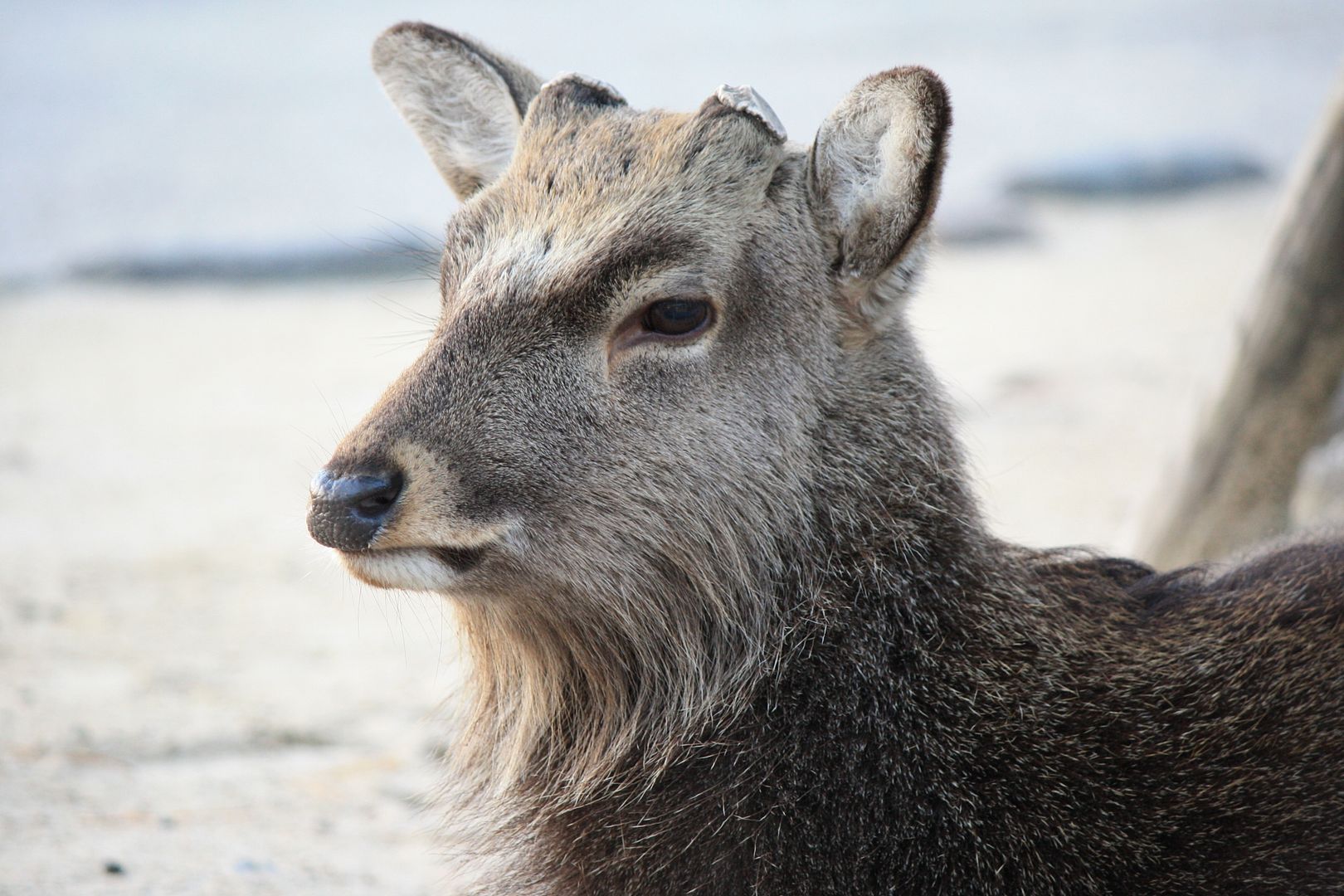 Bearded deer.
It was sad to fly out of Osaka the next morning. Next . . . my first visit to Taiwan and Michael's return after seventeen years!