I just watched My Kid Could Paint That. I really like this little girl's art. Look at this painting: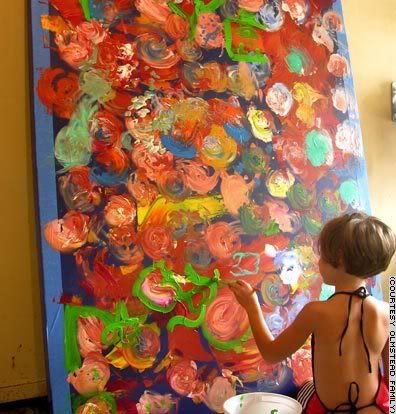 And here are some cool things I found out about her here:


Marla's first painting sold for $250 when she was 2.
When she paints, Marla uses acrylic paint, brushes, squirt bottles, spatulas, and the ideal child stand-by: her fingers.
Marla's favorite color is pink.
When Marla was 2, her favorite bedtime book was a Children's Dictionary.
Her favorite painting is Purse.
After one of her first paintings was sold, the collector found an Eeyore sticker Marla had hidden in it.
She was almost a Leap Day baby.
She loves to cook and watches The Food Network daily.
Her favorite things about gallery openings are the other children and the cookies.
She is a descendant of Frederick Law Olmsted, the landscape architect who designed Central Park.
One of her paintings, Digits I, hangs next to a Renoir.
She is much more comfortable behind the lens, and her favorite "toy" is an old digital camera.
Her great-grandfather, great-uncle, great-aunt and two of her second cousins are/were professional artists.
California collector Stuart Simpson, who owns paintings by Monet and Renoir as well as a sculpture by Rodin, bought three Marla's paintings.
Some of Marla's favorite movies are Shrek and Ice Age
Marla likes to eat gnocchi and watches cooking shows with her mom, and especially Emeril with her grandmother
Marla prefers to paint in the morning.
When Marla decides she is finished, she gives her painting titles like "Dinosaur," or something reminiscent of a bedtime monster