Several weeks ago, one of my good friends invited me to see his home town, Hohenstein-Ernstthal, since the Mormons there would be getting a tour of the city. The weather was great, though online we had read there would be heavy rains. Must have been all that praying Andy had been doing. ;)

Mormons gathering:





At the City Hall we heard the history of the city:





Pretty building: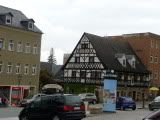 We then went to the weaving factory museum, where we saw how socks and tapestries were made. I was interested to hear about and see the finished toes of stockings that were sent outside of East Germany and the rough toes of those sold behind the wall. The tour guide at the weaving factory museum showing how socks come out of the machine still together:





Then Andy showed off the trains that his dad and grandfather built:




Andy's dad loves cowboy stuff, so I had to get the gun talk from him: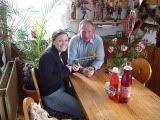 Karl May, the German who wrote about a billion books about cowboys and Indians (Germans love that stuff), lived there, so we walked to the festival going on in his honor. The church tower was open, so we went to the top. I thought the tour guide looked like Robin Williams.


Here's the view from the top of the church tower (and look for the guy who looks like Robin Williams):





Andy didn't want to take this picture. Hee hee.





Then we walked up the "mountain." Andy wasn't all that excited about playing on the playground: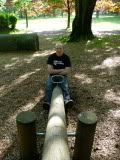 But I got this nice picture out of it:





Pretty flowers:





Andy showed me the fabulous view from this strategically-placed bench:




All in all, a lovely visit.